Welcome Aboard, the Most Outstanding Unit in Area 6!!!
12 months ago
Welcome to LDHS NJROTC
Laurens District High School NJROTC is one of the premier units in the nation. For the past four years the unit has earned Distinguished Unit with Academic Honors placing them in the top in the nation. For the last two years, Sys 2015-2017, LDHS NJROTC was named the Most Outstanding (Best) Unit in North and South Carolina!!! And this past year we were named the #5 unit in the Nation! The NJROTC Battalion is comprised of over 200 cadets who participate in Drill, Athletics, Academics, Orienteering and Rifle. The more you are involved the more enjoyable it is. There is a lot on this welcome aboard page but it is only a summary. You will have to look at the other pages to see in detail what is going on and what is the right fit for you in Navy JROTC.
HONOR, COURAGE, COMMITMENT
DRILL
over 2 years ago
Orienteering
about 1 year ago
LDHS Orienteering - 2017 National Championships at Red Top Mountain, GA
The LDHS NJROTC Orienteering Team earned their spot in the 2017 National Orienteering Championships after an arduous season traveling all over the southeast. The Nationals were held at Red Top Mountain State Park. This was the Orienteering Team's 4th year in a row to participate in the National Championships. The team took 16th place out of 31 participating teams. The Varsity Team (Green/Brown) was 22nd overall. The JV team (Orange) took 19th place and the Freshmen Team (Yellow) was 4th in the nation!!! A number of this year's returning orienteers are nationally ranked and others will be given the opportunity to become ranked as we participate in nationally sanctioned meets in near by states. This year's schedule will be jam packed with events that prepare our team to participate in our 5th National Championship!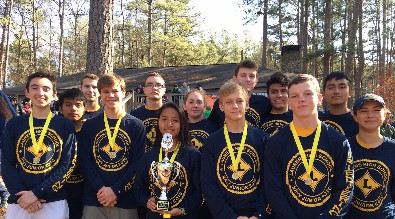 International Specifications for Orienteering Maps

Rifle - Marksmanship
11 months ago
LDHS Rifle Team - 2017 Upstate Runner-Up
The Rifle Team of LDHS NJROTC did a good job this past year earning their way to the Area 6 Championships for the 8th year in a row as a team. The team will look to the Class of 2021, freshmen, to keep the team on track again this year.
Academic Team
11 months ago
LDHS NJROTC Academic Team places 20th in the Nation!
After taking 2nd place at the regional Brain Brawl qualifier at Western Alamance H.S. Laurens NJROTC Academic Team hit the road to Jacksonville University in Florida to compete at the National Academic Brain Brawl where they learned a lot about National Level events and placed 20th overall.